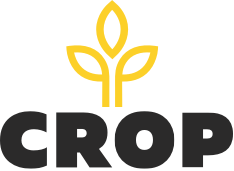 These terms of service (the "Terms") are a binding contract between you and Crop ApS, CVR no. 38176137 ("Crop," "we" and "us"). you must agree to and accept all of the Terms, or you don't have the right to use the services available at and through our websites or through our mobile applications (the "Services"). Your using the Services in any way means that you agree to all of these Terms, and these Terms will remain in effect while you use the Services.

These Terms include the provisions in this document, as well as those in our Privacy Policy ("Privacy Policy"). When we refer to ("Data") in these Terms, we are referring to your Personal Information or your Ag Data. We define your Personal Information and Ag Data and how we use each category of information in the Privacy Policy.
Eligibility. You represent and warrant that you are an individual of legal age to form a binding contract. If you're agreeing to these Terms on behalf of an organization or entity, you represent and warrant that you are authorized to agree to these Terms on that organization or entity's behalf and bind them to these Terms (in which case, the references to "you" and "your" in these Terms, except for in this sentence, refer to that organization or entity).
Fees. Your right to use certain features of the Services is subject to your continued payment of all applicable fees for those features ("Paid Services"). Any payment terms or "free trial" terms presented to you in the process of using or signing up for Paid Services are part of this Agreement.
Services. You understand that Crop owns the Services. The information provided and materials displayed or performed or available on or through the Services, including, but not limited to, text, graphics, data, analytics, benchmarking articles, photos, images, illustrations, User Submissions, and so forth (all of the foregoing, the "Content") are protected by copyright, trademark, trade secret and/or other intellectual property laws. We own the Content presented or available through the Services other than your data, your Personal Information, your User Submissions or other third party content that we make available through the Services. You promise that you won't use, copy, reproduce, modify, translate, publish, broadcast, transmit, distribute, perform, upload, display, license, sell or otherwise exploit for any purpose any Content not owned by you without the prior consent of the owner of that Content.
Service Availability. Not all Services we offer are available in all locations. For example, our procurement services are available only where we are licensed to sell. Also, not all agronomic data and analytics we provide are applicable to all crops and geographies, so we may tailor the content we make available to you based on such factors as your location, the data you have provided, and your crops.
User Submissions. Data that you post, upload, share, store, or otherwise provide through the Services, including Personal Information and Ag Data, whether viewable by other our users or not, including any photos that you upload to our photo database, is your "User Submission". You grant us a royalty-free, worldwide, irrevocable license to use, translate, modify, publish, transmit, display, reproduce and otherwise act with respect to such User Submissions, in each case to enable us to operate the Services and for our own business purposes. This is a license only. Your ownership in User Submissions is not affected. To the extent the Services allow other users to access your User Submissions, you grant such other users a license to access those User Submissions, and to use and exercise all rights in it, as permitted by the functionality of the Services. All of the licenses you grant to us are subject to our Privacy Policy to the extent they relate to User Submissions that are also your Personal Information as defined in our Privacy Policy.
Responsibility for Content. Any information or content publicly posted or privately transmitted through the Services is the sole responsibility of the person from whom such content originated, and you access all such information and content at your own risk, and we aren't liable for any errors or omissions in that information or content or for any damages or loss you might suffer in connection with it. We cannot control and have no duty to take any action regarding how you may interpret and use the any content or what actions you may take as a result of having been exposed to any content, and you hereby release us from all liability for you having acquired or not acquired content through the Services.
Additional Rules and Restrictions. Your use of the Services is subject to the following additional rules and restrictions:
You will only use the Services for your own internal, personal, non-commercial use (other than your use for your own benefit), and not on behalf of or for the benefit of any third party, and only in a manner that complies with all laws that apply to you. If your use of the Services is prohibited by applicable laws, then you aren't authorized to use the Services.
You will not share your account or password with anyone, and you'll take reasonable steps to protect the security of your account and your password. You're responsible for any activity associated with your account.
You will not contribute any Content or otherwise use or interact with the Services in a manner that:
Infringes or violates the intellectual property rights or any other rights of anyone else (including Crop);
Is harmful, fraudulent, deceptive, threatening, harassing, defamatory, obscene, or otherwise objectionable;
Jeopardizes the security of your Crop account or anyone else's, such as allowing someone else to use your user name or password to access the Services (except on your behalf);
Violates the security of any computer network, or wrongfully obtains any passwords or security information;
"Crawls," "scrapes," or "spiders" any page, data, or portion of or relating to the Services or Content (through use of manual or automated means) or copies any significant portion of the Content;
Decompiles, reverse engineers, or otherwise attempts to obtain the source code or underlying ideas or information of or relating to the Services; or
Is intentionally false or misleading.
Changes.
Changes to these Terms and Conditions. We're always working to improve the Services, so they may change over time, so these Terms may need to change along with the Services. We reserve the right to change the Terms at any time, but if we do, we will bring it to your attention by sending you an email and/or by some other means. If you don't agree with the new Terms, you are free to reject them; but that means you will no longer be able to use the Services.
Changes in Services. We may suspend or discontinue any part of the Services, or we may introduce new features or impose limits on certain features or restrict access to parts or all of the Services. We'll try to give you notice when we make a material change to the Services that would adversely affect you, but this isn't always practical. Similarly, we reserve the right to remove any Content from the Services at any time, for any reason (including, but not limited to, if someone alleges you contributed that Content in violation of these Terms), in our sole discretion, and without notice.
Termination. You're free to stop using the Services at any time. Please refer to our Privacy Policy, as well as the licenses above, to understand how we treat information you provide to us after you have stopped using our Services. We are also free to terminate (or suspend access to) your use of the Services or your account, for any reason in our discretion, including your breach of these Terms. Account termination is effective at the time you confirm termination or we terminate your account, even if termination occurs prior to the end of your then current membership term. Account termination may result in destruction of any Content associated with your account, so keep that in mind before you decide to terminate your account.
Provisions that, by their nature, should survive termination of these Terms shall survive termination.
General.
Warranty Disclaimer. Crop does no make any representations or warranties concerning the Services and/or any Content contained in or accessed through the Services, and Crop will not be responsible or liable for the accuracy, copyright compliance, legality, or decency of Content contained in or accessed through the Services. THE SERVICES AND CONTENT ARE PROVIDED BY CROP (AND ITS LICENSORS, ADVERTISERS AND SUPPLIERS) ON AN "AS-IS" BASIS, WITHOUT WARRANTIES OR ANY KIND, EITHER EXPRESS OR IMPLIED, INCLUDING, WITHOUT LIMITATION, IMPLIED WARRANTIES OF MERCHANTABILITY, FITNESS FOR A PARTICULAR PURPOSE, NON-INFRINGEMENT, THAT USE OF THE SERVICES WILL BE UNINTERRUPTED OR ERROR-FREE OR THAT YOU WILL EXPERIENCE ANY PARTICULAR CROP OR SEED PERFORMANCE OUTCOME. SOME STATES DO NOT ALLOW LIMITATIONS ON HOW LONG AN IMPLIED WARRANTY LASTS, SO ONLY PORTIONS OF THE ABOVE LIMITATIONS MAY APPLY TO YOU.
Limitation of Liability. TO THE FULLEST EXTENT ALLOWED BY APPLICABLE LAW, UNDER NO CIRCUMSTANCES AND UNDER NO LEGAL THEORY (INCLUDING, WITHOUT LIMITATION, TORT, CONTRACT, STRICT LIABILITY, OR OTHERWISE) SHALL CROP BE LIABLE TO YOU OR TO ANY OTHER PERSON FOR (A) ANY INDIRECT, SPECIAL, INCIDENTAL, OR CONSEQUENTIAL DAMAGES OF ANY KIND, INCLUDING DAMAGES FOR LOST PROFITS, LOSS OF YIELD, LOSS OF GOODWILL, WORK STOPPAGE, ACCURACY OF RESULTS AND/OR AMOUNTS EXPENDED IN RELIANCE ON CONTENT (INCLUDING ANALYTICS), BENCHMARKING OR INFORMATION AVAILABLE THROUGH THE SERVICE, OR COMPUTER FAILURE OR MALFUNCTION, OR (B) ANY AMOUNT, IN THE AGGREGATE, IN EXCESS OF THE GREATER OF (I) $100 OR (II) THE AMOUNTS PAID BY YOU TO CROP IN CONNECTION WITH THE SERVICES IN THE TWELVE (12) MONTH PERIOD PRECEDING THIS APPLICABLE CLAIM, OR (C) ANY OTHER MATTER. SOME STATES DO NOT ALLOW THE EXCLUSION OR LIMITATION OF CERTAIN DAMAGES, SO ONLY PORTIONS OF THE ABOVE LIMITATIONS AND EXCLUSIONS MAY APPLY TO YOU.
Assignment. You may not assign, delegate or transfer these Terms or your rights or obligations hereunder, or your Services account, in any way (by operation of law or otherwise) without our prior written consent. We may transfer, assign, or delegate these Terms and our rights and obligations without consent.
Miscellaneous. These Terms are governed by and will be construed under the laws of Denmark, without regard to the conflicts of laws provisions thereof. The parties hereby consent to the exclusive jurisdiction of the city court of Copenhagen, Denmark. The failure of either you or us to exercise, in any way, any right herein shall not be deemed a waiver of any further rights hereunder. If any provision of these Terms is found to be unenforceable or invalid, that provision will be limited or eliminated, to the minimum extent necessary, so that these Terms shall otherwise remain in full force and effect and enforceable. You and Crop agree that these Terms are the complete and exclusive statement of the mutual understanding between you and Crop, and that it supersedes and cancels all previous written and oral agreements, communications and other understandings relating to the subject matter of these Terms.
Copyright © 2021 Crop Aps